* * * * * * * * * * * * * * * *
Lance Armstrong Criterium, Austin, Texas
April 8, 2000
* * * * * * * * * * * * * * * *
| | |
| --- | --- |
| | |
| R. Worthington, Esq., Genghis Hahn, Esq. and John Caron, Esq. three Lawyers preparing to meet their doom in Pro 1-2 Lance Armstrong Crit, downtown Austin, Texas | RGW latched on to race winner Richard Meekers Wheel. RGW placed 3rd in the Masters 30 plus race, Lance Armstrong Criterium, April 8, 2000. |
* * * * * * * * * * * * * * * *
Labor Power Wins 1999 Lance Armstrong Criterium, Austin, Texas
R. Worthington positions himself for the sprint ahead of national champions Glen Twinkles and Herr Blue Chip.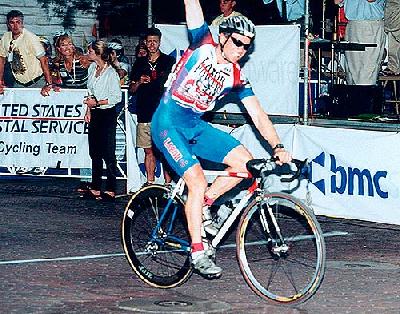 R. Worthington celebrates another Labor Power Victory (33 victories to date). May, 1999, Austin, Texas.
* * * * * * * * * * * * * * * *
1998 - Friend of Labor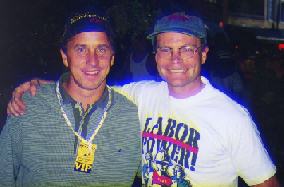 The greatest American Cyclist of All-Time, Greg LeMond, three time winner of the Tour De France, embraces Labor's finest.
Race for the Roses, Austin, Texas, June 1998.

Bon Voyage!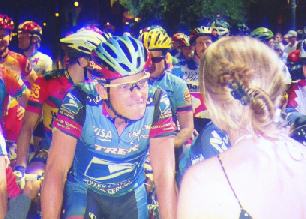 Lance Armstrong, cancer survivor, gets warm send off from lovely wife at starting line of Race for the Roses, Austin, Texas 1998. The greatest American Cyclist since Greg LeMond responded by winning his debut race, which raised $400,000 to be used by the Lance Armstrong Foundation to research cures for cancers of the urinary tract.
1997 Hotter'n Hell Champ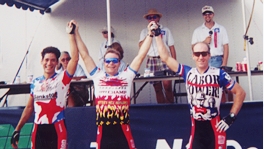 Labor Power takes top two spots at the 1997 Hotter'n Hell Criterium in Wichita Falls, Texas (Masters 30+ Division).
Roger (middle) won his 22nd race of the 1997 season and Dallas Criterium Champ Chris Hipp (right) was 2nd.
1997 Tour of Texas Champ