* * * * * * * * * * * * * * * *
Labor Rocks Redlands!
March 16, 2002
* * * * * * * * * * * * * * * *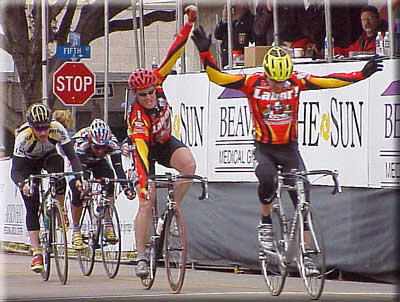 Labor Power 1-2 Punch!
Labor Power's Chris Hipp Starr and Butch Cassidy celebrate a Labor 1-2 Punch in the 40+ category of
the 2002 Redlands Cycling Classic criterium. The win was set up by a blistering lead out from
teammates Dale Lugnuts, Stanky Mike and Hoodee Hovercraft.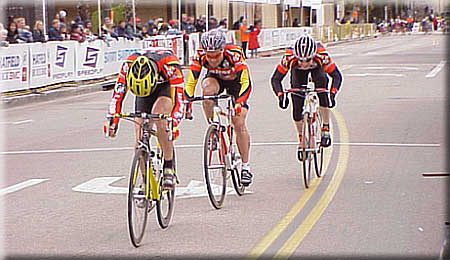 Labor Digging Deep at the Bell Lap! 60 Seconds to Glory.
With three laps to go, Labor Power pounders Genghis Hahn, L. Ron Petersen and Hoodee Hovercraft
broke away from the field of 100 plus riders at the Redlands 2002 Cycling Classic. Despite a ferocious chase by the pack,
the three Laborites dug deep, focused, united and pushed themselves to the limit in order to achieve the impossible.
As the announcer said "Ladies and Gentlemen This is unprecedented! The field is not going to catch!
The break is going to make it! This is unbelievable! What power!"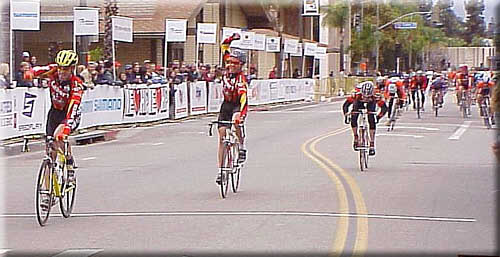 Labor Break Crushes Field!
Labor triumphant Trio L.Ron, Genghis and Hoverhawk stagger across the finish line exhausted but exhilerated
just as the enraged field catches. Labor dug deep into untapped territory to pull off this impossible victory.
Pure Solidarity. Pure Labor.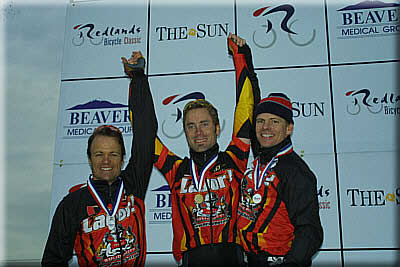 Fruits of Labor: How Sweet It Is!
Labor dominates the 30 plus Redlands Cycling Classic criterium.
Labor has won this prestigious race 3 out of the last 5 years.
Featured above Genghis Hahn (silver), L.Ron Petersen (gold), and Hoodee Hovercraft (bronze).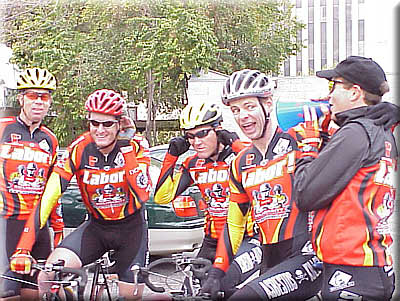 Listen Up Labor!
Labor coach R. Worthington making darn sure his brethren can hear his pre-race winning strategy.
Pictured are ( L to R) Dale Lugnuts, Butch (Momma) Cass, Der Hippstar, HooDee Hoverbrother, and coach Agro.