* * * * * * * * * * * * * * * *
Labor Storms Europe!
August, 2001
* * * * * * * * * * * * * * * *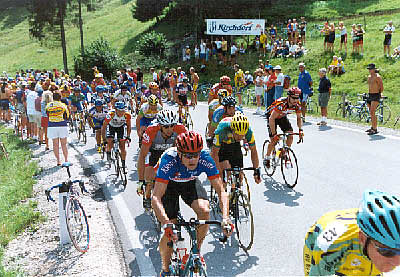 Labor on the attack in the 2001 Masters World Championships in St. Johann of Tirol, Austria, August 27, 2001.
The 75 mile course skirted the base of the Wilder Kaiser mountain range, which is part of the Kitzbuhel Alps.
150 racers competed from all across the globe, including Italy, Russia, France, Australia and Germany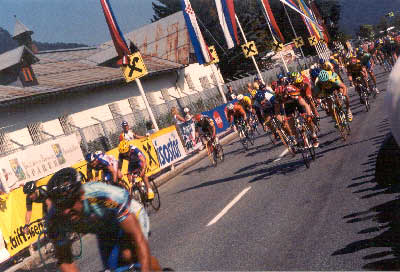 Labor sprints to 2nd in the Field Sprint against over 100 racers,
but unfortunately there were 22 racers off the front in a series of small breakaways.
Racing in Europe is not for the meek, as the locals tend to use elbows as swords, truncheons and/or battering rams.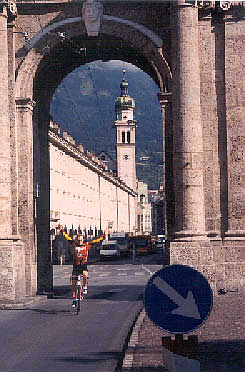 Labor celebrates an imaginary victory in city of Salzburg, Austria,
under the Triumphpforte (Triumphal Arch), built my Maria Theresa in 1765.
RGW narrowly dodged a trolley to secure the hard fought win.